Online Therapy India
Are you struggling with mental health issues or seeking emotional support, but unable to access traditional therapy due to factors such as lack of time, money, or accessibility? If so, online counselling in India may be a great option for you.
Also known as teletherapy or e-therapy, it allows you to receive therapy from the comfort of your own home using a computer, tablet, or smartphone.
Let's explore the world of best online therapy in India, including its advantages, different types, how to select an online therapist, and when you should reach out for help.
What is online counselling and therapy?
Online counselling and therapy, also known as e-counseling or e-therapy, is a form of mental health treatment that is delivered remotely using digital communication technologies. This can include video conferencing, phone calls, messaging apps, or email. The aim of online counselling in India is the same as traditional therapy—to help individuals improve their mental health and wellbeing, overcome emotional and psychological issues, and achieve personal growth and development.
Why do you need therapy?
Life can be challenging and sometimes overwhelming, and it's normal to feel stressed, anxious, or sad at times. However, if these feelings persist and start to interfere with your daily life, it might be a sign that you need some extra support.
Therapy can provide a safe and confidential space to explore and work through these difficult emotions and issues, with the help of a qualified and licensed professional. It can help you develop coping strategies, improve communication and problem-solving skills, and increase self-awareness and self-esteem.
One who has undergone trauma, grief, or other significant life events that have impacted their mental health can benefit from therapy. It can provide tools to manage symptoms of mental health conditions such as depression, anxiety, bipolar disorder, and schizophrenia.
For individuals who seek to enhance their relationships, tackle personal problems, or attain personal growth and development, therapy can prove advantageous. By providing a setting to gain insights, acquire new skills, and strive towards self-improvement, therapy can ultimately help individuals become their best selves. Therapy is for all, regardless of what point of life one is in!
What are the advantages of online counselling?
The rise of digital technology has made it possible for individuals to access mental health services from the comfort of their own homes, on their own schedules. But what exactly are the advantages of online counselling in India? Let's take a closer look.
Accessibility: Online counselling is accessible to anyone with an internet connection, regardless of location or physical abilities. This is particularly beneficial for people who live in remote areas, have mobility or transportation issues, or have busy schedules that make it difficult to attend in-person sessions.

Convenience: Online counselling can be done from the comfort of one's own home or any private space, saving time and travel expenses. This is especially convenient for individuals who have children or caregiving responsibilities or those who have difficulty leaving their home due to physical or mental health conditions.

Affordability: Online counselling can be more affordable than traditional therapy, as therapists don't need to rent an office space, and fees can be lower due to lower overhead costs.

Flexibility: Online counselling offers greater flexibility in terms of scheduling, as clients and therapists can often find times that work best for both parties. This can be particularly helpful for individuals who work irregular hours or have unpredictable schedules.

Comfort: Online counselling can be more comfortable for some individuals who may feel more relaxed and at ease in their own environment. This can help to facilitate the therapeutic process and increase the effectiveness of the sessions.

Anonymity: Online counselling offers a greater degree of anonymity and privacy, which can be beneficial for individuals who feel uncomfortable or stigmatised seeking mental health treatment. This can encourage individuals to seek help without fear of being judged or discriminated against.

Wide Range of Services: Online counselling offers a wide range of services that are not always available in-person, such as online support groups, online self-help resources, and chat-based therapy.
Overall, online counselling in India offers a convenient, flexible, and accessible alternative to traditional therapy, making mental health support more available to people who may not have otherwise sought help.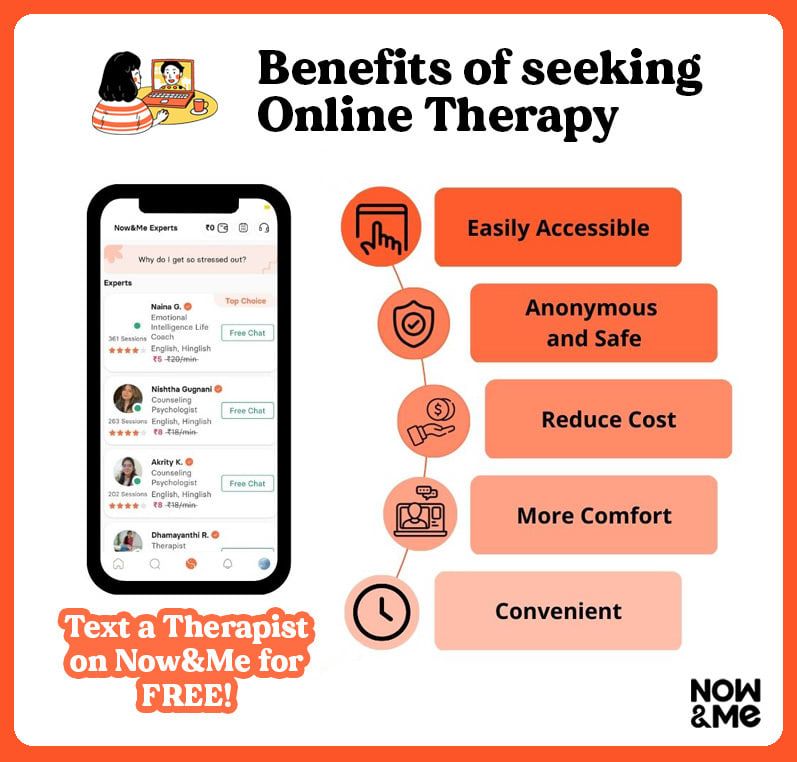 Types of Online Therapy in India
There are various types of best online therapy in India, depending on your preference and comfort level.
Video therapy is the most common type, where you have a face-to-face session with a therapist using a video conferencing platform. This type of therapy can be similar to traditional therapy, as you can see and hear the therapist and have a real-time conversation.
Phone therapy is another type, where you talk to a therapist over the phone. This type of online therapy in India can be useful if you don't have access to a stable internet connection or prefer to have a voice-only session.
Chat-based therapy is a newer type, where you communicate with a therapist through messaging platforms, such as WhatsApp or email. This type of therapy can be beneficial if you're not comfortable with video or phone therapy, or if you prefer to take your time to write out your thoughts and feelings.
How can I consult the best online psychologist in India ?
There is no best, just best for you, you can get started by reviewing and comparing options. Choosing an online therapist in India can be daunting, as you want to make sure you find a qualified and trustworthy professional who can help you with your mental health concerns. Here are some tips on how to choose an online therapist in India:
Check their credentials: Make sure the therapist is licensed and registered with a recognized professional association, such as the Indian Association for Clinical Psychologists or the Indian Association for Social Psychiatry.
Read reviews: Look for online reviews or testimonials from previous clients to get an idea of their experience and satisfaction with the therapist.
Consider their experience: Find out how long the therapist has been practising and if they have experience in dealing with the specific mental health issues you're facing.
Look for a good fit: It's important to find a therapist who is a good fit for your personality, communication style, and cultural background. You can ask for a free online therapy or initial session to get a sense of their approach and if you feel comfortable with them.
How therapy can help you to improve your life?
Therapy can help you in many ways, such as:
Providing a safe and confidential space to explore difficult emotions and issues.
Improving communication and problem-solving skills.
Developing coping strategies for managing stress, anxiety, and depression.
Increasing self-awareness and self-esteem.
Helping individuals work through trauma, grief, or other significant life events.
Enhancing relationships and improving communication skills.
Providing support and guidance during life transitions, such as career changes, divorce, or retirement.
Addressing specific mental health conditions, such as depression, anxiety, bipolar disorder, and schizophrenia.
Encouraging personal growth and development.
Promoting a sense of empowerment and control over one's life.
Therapy can be beneficial for individuals of all ages and backgrounds, and can be tailored to meet individual needs and preferences. If you are nervous as to how to go about your first therapy session, here is a short guide we had made a while ago!
Why Now&Me is the best online psychologist consultation website?
If you're looking for a reliable and convenient way to access mental health services, Now&Me might just be the answer you've been searching for. This platform is incredibly user-friendly and easy to navigate. You can quickly sign up and connect with a licensed therapist, all from the comfort of your own home.
But what really sets Now&Me apart from the competition is their commitment to providing affordable mental health care. We offer a range of pricing options, so you can choose a plan that fits your budget.
Plus, Now&Me has a diverse and inclusive team of therapists, which means you can find someone who understands your unique experiences and can provide personalised care. They offer a variety of services, from one-on-one counselling to group therapy, so you can find the type of support that works best for you.
With the text feature, you can chat with therapists at your convenience, rather than scheduling a specific appointment time. This can provide a more flexible and convenient option for you with busy schedules or limited availability.
You may also have the option to send attachments or share resources with the therapist through the text feature, allowing for a more interactive and personalised therapy experience.
This makes Now&Me the best online psychologist consultation platform because of its affordability, accessibility, and commitment to quality care.
FAQs
Individuals who are in crisis or experiencing severe mental health issues may not be suitable for online therapy. If you are wondering whether online therapy is for you or not, chat with therapists on Now&Me and find out.
It's important to ensure you have a secure and private environment, a stable internet connection, and a device with a camera and microphone for video sessions.
For new users, Now&Me provides free online therapy in India. For text-based sessions, pricing can range from 15 to 300 rupees varying due to the timings, while audio/video calls with therapists are priced from 300 to 2000 rupees.
Yes, Now&Me permits you to talk to a counsellor for free. By checking the online status of experts, you can engage in a chat with them, instantly!
Online counselling typically involves a video or phone call with a licensed therapist or counsellor. However, Now&me also allows chatting with online therapists for free.
Now&Me offers online counselling and therapy services, as well as a community support forum for individuals to share their experiences and connect with others. Moreover, you can find a text-based feature that helps you to talk to experts online (free) and get answers to your queries.
At Now&Me, online therapy is offered in most languages which you can choose based on your preference. You can speak to our therapists in English, Hindi, Marathi, Tamil, Bengali, Gujarati!
To talk to a psychologist online, you can typically sign up for an online therapy service or platform, schedule a session, and connect with a licensed psychologist via video or phone call. However, you can also communicate with therapists or counsellors through text-based messaging on Now&Me, rather than a video or phone call.