Online counselling and therapy have become the buzz of the town, and it is one of the best things that has ever occurred to our generation. By sharing our worries, starting conversations, and prioritising therapy, we are slowly but steadily de-stigmatising mental health.
However, for many who can't go to see a therapist near them or can't pay the high rates, online therapy can be a godsend. Anyone with access to the internet can get mental health services from the comfort of their own home.
Since online therapy is still a relatively new concept, you may not be sure what information is true and what is just cap. It's okay to be apprehensive about opening up in a virtual realm, even in these changing times. We've all been there, doubting ourselves.
That said, let's take a look at some of the common myths and misconceptions about online counselling, so you can figure out what works best for you.
Debunking 6 Common Myths About Online Therapy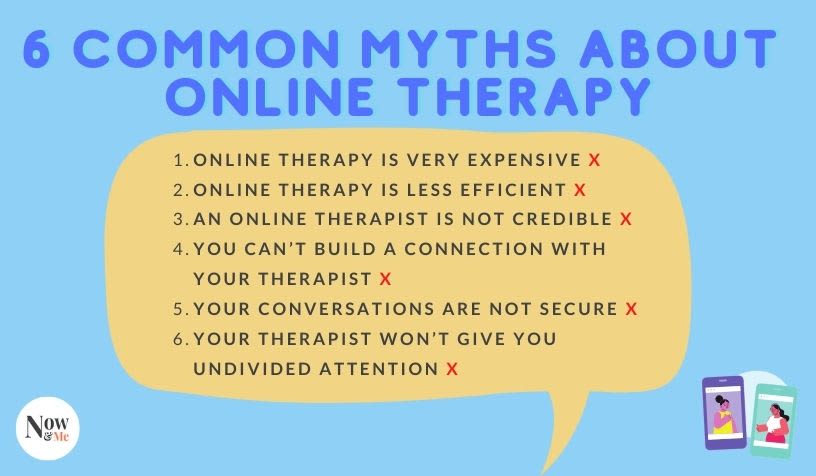 1. Online therapy is very expensive
Online therapy has existed for some time, but it exploded in popularity during the COVID-19 lockdown when people could not leave their homes to attend therapy. The main emphasised benefit of online treatment was convenience, but people soon discovered that online sessions are also more economical.
Despite the misconception that online psychotherapy is more expensive than traditional therapy, it is actually a very cost-effective option. Before booking a paid consultation, you can obtain a free trial to see if the therapist is the appropriate fit for you. Since the overhead costs of a clinic are removed, some therapists are able to afford a lesser fee sometimes.
Online therapy sessions make it a more inexpensive choice without compromising quality or professionalism. Additionally, if you choose online treatment, you will not have to pay for transportation or other travel fees. Now that the myth has been exposed, you may begin looking for online therapy services and identify some affordable solutions that will meet your needs.
The cost of therapy at Now&Me starts as low as ₹30 and costs 1/4th the cost of traditional therapy.
2. Online therapy is less efficient compared to face-to-face one
Although sitting in front of your psychologist allows them to comprehend your tone and body language better, this does not rule out the possibility of online counselling being more beneficial.
Online therapy will not let you down when it comes to developing a good relationship with your therapist. Your psychologist will find a way to emotionally connect with you through various psychological tactics and tools, no matter how far apart you are.
So many types of therapies are available online, like cognitive behavioural therapy in India is available online, and it produces results that are just as effective as a face-to-face session. You can also have virtual access to some of the best online therapists in India, which is impossible to do if you are simply looking for therapists in your location.
A therapist's level of expertise is unaffected by the mode of service. A skilled therapist will help you just as effectively whether you are sitting in front of them or interacting with them via zoom call.
3. An online therapist is not credible
We understand if you've lost faith in online consultations and other paid services due to the increasing number of scammers and fake websites on the internet. However, with a little background research and verification of information through referrals, we can easily avoid the chances of being conned. Any qualified therapist's information is available online in their bios, websites, and LinkedIn profiles.
Individuals who provide services offline in clinics and hospitals are frequently the same people who provide services online. Even therapists who solely provide mental health counselling online can be trusted if they come from a reputable source. You may assess their credibility by reading online reviews and consumer testimonials, as well as looking up their certificates.
And if you're ever in doubt, just seek us out. Therapy&Me, a safe online therapy space by Now&Me, features a number of reputable and verified psychologists who specialise in a variety of mental health and emotional well-being issues. Trust me when I say we won't let you fall into the wrong hands.
4. You can't build a connection with your therapist online
Online therapists have the training to provide an open and honest environment in which you can open up without fear.
Your therapist can still see you visually and hear you, see your body language and nonverbals in online therapy, and skilled professionals can pick up on topics that need more attention. As a result, you may practically create the same kind of relationship with your therapist in a virtual session as you would in a face-to-face one.
Your therapist will accompany you on your path to healing and becoming a better person. Shaifila Ladhani, one of our psychologists, explains -
"This feeling of trust is built with time. Remember, you are in this relationship WITH the therapist. If you feel like the relationship is not being built: bring that to the table. Together the two of you can calmly decide what works and what doesn't."
5. Your conversations with therapists are not secure online
Online therapy sessions, like traditional therapy, are bound by a set of ethics and guidelines designed to ensure confidentiality. Most therapists use online therapy platforms that use the most up-to-date security standards and have agreements in place to keep your credentials and private information safe and secure. Furthermore, therapy sessions are done by registered and qualified therapists who safeguard your privacy and personal information.
To be certain, read the conditions of confidentiality carefully before beginning a session with your therapist. With online counselling growing increasingly common, mental health platforms like ours and others are working hard every day to make the internet a kinder and safer place.
6. Your therapist won't give you undivided attention
You may believe that if you had an in-person session with your therapist, they would give you more importance and attention. This isn't the case at all. A therapist will always give you their complete attention, whether it's in person or online.
A therapist sitting in their clinic places their patient at the top of their priority list and devotes 100% of their attention to them. It's the same in online sessions; no matter how many distractions arise, the therapist will always prioritise the patient.
A therapy session is a one-on-one conversation. Interaction between the two parties is required and unavoidable. The therapist will support you and help you as best they can, just as they would in person. You may feel confident that though you signed up for an online therapy session, you will not be ignored at any point. Online therapies are very similar to in-person therapy. They'll both produce the same results.
Find The Right Therapist For You on Now&Me
It's difficult to know where to start and how to go about it when there's so much uncertainty and ambiguity around online counselling. You may be concerned about the legitimacy of websites, whether or not the therapist is a licensed professional, and whether or not your privacy would be violated. Don't worry, Now&Me has gone above and beyond to put your mind at ease.
Therapy&Me, a secure online therapy platform created by Now&Me, helps you find inexpensive and trustworthy online therapists across the world. We use a simple one-step survey to guide you through the various questions you'll need to ask yourself in order to find the ideal therapist.
How Can Now&Me help?
Now&Me has helped millions of people around the world in sharing their emotions in a safe and friendly environment. Our team has now taken the initiative to make therapy more accessible for you. On Therapy&Me, you may book a session at your convenience. But if you're only seeking for a safe place to share your thoughts and unburden yourself anonymously, you've come to the right place.
Now&Me provides a safe and supportive platform to connect with experienced mental health and self care professionals who can offer you guidance and support.
Our peer community is welcoming, non-judgmental, and inclusive, creating a warm and supportive environment to share your thoughts and feelings.
You can interact with like-minded peers or seek guidance from experienced experts like therapists and life coaches, instantly. What are you waiting for? Download for FREE!
FAQs
Yes, there are numerous online and offline establishments that provide free therapy. Anyone in emotional discomfort can receive free counselling at Sanjivani in Delhi or Ehsaas Clinic at Ambedkar University. Hims and Hers, Manastha, are other online therapy apps that provide free counselling to everyone.
Choosing online counselling from a reliable source is risk-free. You have the right to information with every platform. I would recommend Therapy&Me to anyone looking for a safe place to find the right therapist for their mental health needs.