Pop Culture is a powerful gateway that enables young adults to be more creative, seek out new experiences, diversify their interests, and discover themselves. It is an integral part of society, especially with the emerging advancements in technology, to help explore the world. Films, radio, and television have had a profound impact on the development of pop culture. However, music is not that far behind.
The Power of Pop Culture
Music has been known to improve mental well-being, boost self-esteem and confidence, enhance focus, and improve cognitive performance. But beyond that, it can be a source of warmth, comfort, and understanding in surprising ways.
Historically, musicians have been a powerful source of advocacy, especially in genres of rock. Music enables the fight against stigma surrounding important issues, like mental health, and advocates for a better tomorrow. It can be a tremendously empowering force and can unite many individuals under the same message. People have often used music as a medium for expressing difficult emotions, dissent, solidarity, diversity, empathy, or simply speaking one's mind.
BTS uses its music in a similar way. BTS, short for Bangtan Sonyeondan (방탄소년단) is a 7 member Korean boy band. The band includes Kim Seokjin (Jin), Min Yoongi (Suga), Jung Hoseok (J-Hope), Kim Namjoon (RM), Park Jimin, Kim Taehyung (V), and Jeon Jungkook. They're regarded as one of the biggest global sensations of the current generation, with more than 450 awards and 650 nominations so far. In an industry that has been slow to accept diversity, BTS has won many accolades and received the love of millions across the globe.
How Is BTS Winning The Hearts of Millions?
BTS is generally regarded as a K-pop band, but they make music in a wide range of genres, including R&B, neo-soul, pop, EDM, emo rock, and hip-hop, to name a few. The band is highly artistic, and every member is incredibly skilled and talented. While the emphasis is on the group as a whole, with one of their most popular values being "teamwork makes the dream work", the members highlight each other's individual capabilities and celebrate them openly.
It opens a gateway that fans can interact with, empathize with their journey, and grow with them. They also host their own TV shows and live sessions and consistently interact with their fans, which has fostered a strong and special bond among the fanbase. They constantly highlight the importance of self-care and support and never miss an opportunity to share a word of encouragement with their fans. Their efforts and sincerity have earned the trust and loyalty of millions worldwide.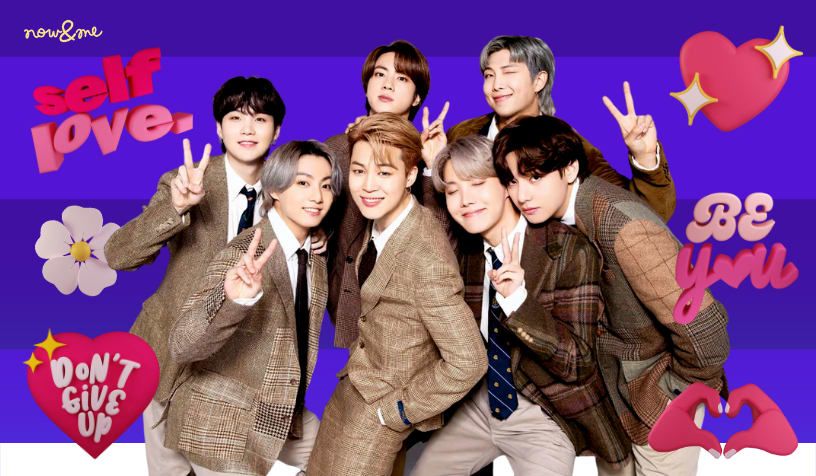 7 BTS Songs That Advocate for Mental Health
BTS has been writing music on social causes, especially mental health, since their debut in 2013. They draw inspiration from their own personal experiences and struggles with mental health, and aim to destigmatize the taboo surrounding psychiatric disorders and symptoms.
1. Blue & Grey from BE
Oh this ground feels so heavier, I am singing by myself, I just wanna be happier
This song was released during the pandemic in their recent album BE. It speaks of the immense struggle and despair experienced worldwide during COVID-19, and of moving from a state of hopelessness to acceptance.
2. N.O. from O!RUL8,2?
Everybody say NO! It's not going to work anymore, Don't be captured in others' dreams.
N.O., similar to their debut song No More Dream, speaks up about the hardships faced by students in academic institutions. They talk about how the stress, pressure, and expectations leave children feeling trapped as mere study machines, and encourage them to stand up for themselves.
3. 00:00 from Map of the Soul: 7
I gather my hands and pray that, I will laugh a little more tomorrow. For me. That it will be a little better.
00:00, called Zero o'clock, speaks of the fleeting nature of life, how pain and happiness are not ever-lasting and everything will eventually pass. They remind us to not get stuck in vicious cycles of self-blame and disappointment and look forward to the next day instead.
4. Answer: Love Myself from LY: Answer
Loving myself might be harder, Than loving someone else, let's admit it, The standards you made are more strict for yourself
To gain the strength to face yourself, accept, and understand your suffering so you can start loving yourself is the main message of this song. It encourages people to work on their self-esteem and reminds them that they're all worthy of love.
5. Tomorrow from Skool Luv Affair
Because the dawn right before the sun rises is the darkest, Even in the far future, never forget the you of right now.
BTS talks about the hardships the young generations face, their fear of the future, and feeling stagnant and stuck in place. They encourage the youth to remember the experiences and not fear the next day.
6. Reflection from Wings
People look happier than the day, Everyone else knows where they're supposed to be, But only I walk without purpose
The song addresses how we often feel directionless in life, constantly pressured to have a goal or purpose for the future, and find it difficult to love ourselves. It's from the perspective of seeking happiness within hardships.
7. Whalien 52 from The Most Beautiful Moment in Life: Part 2
The fact that no matter how much they shout, it won't reach, Makes them so gravely lonely that they quietly shut their mouths
The song is inspired by a whale discovered in 1989 who could only sing at the frequency of 52 Hz and was inaudible to all other whales for the entirety of its life. The song speaks of feeling alienated and lonely, especially how the younger generation feels towards their elders.
How BTS Is Revolutionizing Advocacy for Mental Health
Pop Culture depicts mental health in a very complicated way, with some artists and celebrities advocating a path away from the stigma, and others misrepresenting psychiatric disorders (in movies, TV shows, and media) or blowing events out of proportion such as Britney Spear's infamous public meltdown.
However, musicians have worked a great deal towards addressing global concerns through their lyricism. BTS also addresses important social issues through metaphors and real-life experiences. Some notable songs that speak of mental health and other social causes such as corruption, women's rights, etc. include Silver Spoon, Spring Day, Go-Go, Spine Breaker, 21st Century Girls, Am I wrong, and many more.
Their radical hopefulness and positivity are infectious. Their latest song, Permission to Dance, is so much more than a pop single. It speaks of liberation, relief, and embracing freedom after undergoing a challenging pandemic.
BTS consistently encourages all their fans to be open about their experiences and helps them be confident in their identity. One of the most prominent efforts has been through their flagship project called 'Love Yourself', a campaign to support UNICEF's pledge to end violence. It also encourages fans to focus on their self-esteem and mental well-being and to celebrate everyone's individual identity. They gave their first speech at the 73rd UN General Assembly, and have consistently attended the following UNGAs to advocate for mental health, self-love, and acceptance.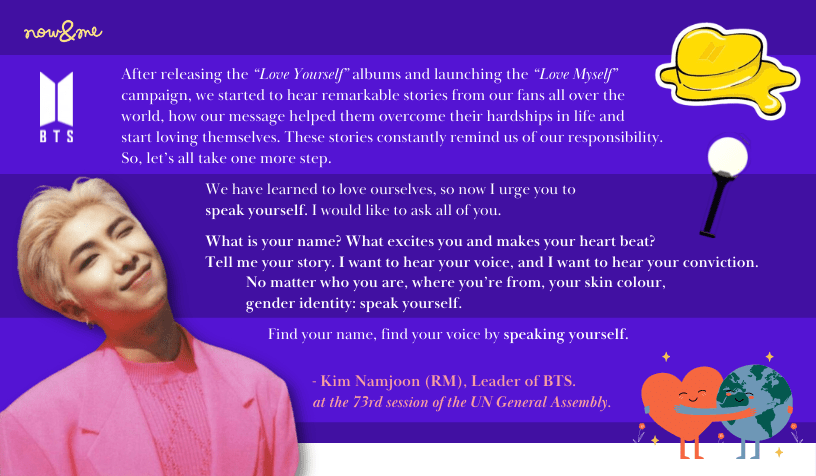 How Can Now&Me help?
Now&Me provides a safe and supportive platform to connect with experienced mental health and self care professionals who can offer you guidance and support.
Our peer community is welcoming, non-judgmental, and inclusive, creating a warm and supportive environment to share your thoughts and feelings.
You can interact with like-minded peers or seek guidance from experienced experts like therapists and life coaches, instantly. What are you waiting for? Download for FREE!
FAQs
BTS members have often released songs and albums as individual members. Agust D's (Min Yoongi) self-titled album and Mono by RM (Kim Namjoon) also include songs that address mental health challenges, such as the song 'The Last' addresses Yoongi's personal struggles with OCD and depression.
Popular choices include Mikrokosmos, Serendipity, Stay Gold, Zero O'Clock, and Spring Day.
Tomorrow, Louder than Bombs, Rain, Answer: Love Myself, Sea, and Young Forever are all great songs that can be helpful when you're feeling low or sad.
So Far Away, First Love, Spring Day, and Sea are incredibly sad and touching songs. But songs like Move, Born Singer, and Road Path may be sadder for fans who know the story behind them.