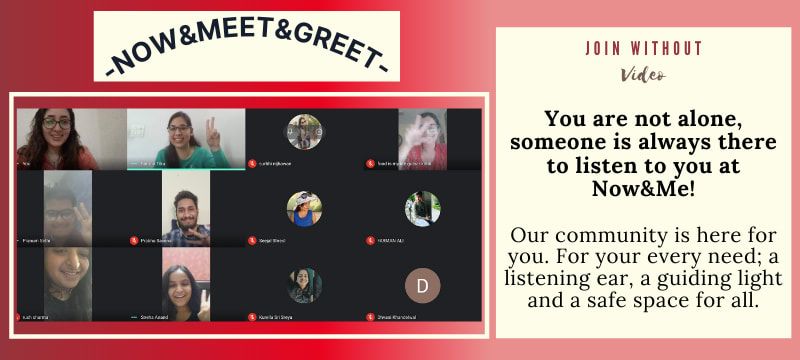 🤍 Now&Meet& Greet 🤍
Hey, Now&Me Fam! ⭐️
How's this week treating you?
Did you know? Today, April 7th we celebrate Now&Me Day. It's been 1 year since we created this beautiful online family!
Now&Me is what it is because of all you lovely people who are so courageous and kind at heart. And we don't want to miss any opportunity to interact with you!!
Thus, we're back with our weekly Member Meet-Up. 🕺🏻🌈 💛
The idea behind the Now&Meet&Greet member meet-ups is for all of us to interact and get to know each other better. You can share your feelings with each other or simply chit-chat and along the way, you'll realise you're not alone!
A safe space for all extroverts, introverts and ambiverts. Join us, talk to us and get to know the community while being in your comfort zone. 🌻
Note: There is no compulsion to turn on your video, we're just happy to have you there!
So, come let's talk 🧡
Here are the details:
Date: 9th April, Friday
Time: 6 p.m. - 7.30 p.m. IST
Venue: Google Meet
Theme: Life & Fun Experiences
Meeting link: http://meet.google.com/isk-zxrf-duu
Please drop a comment below to show your interest so we know you'll be joining us.*
Feel free to invite friends to this fun session. You can share this post with them to include them on our list.
We look forward to seeing you all there! It's going to be a super wholesome and extremely relaxing environment, filled with fun, that will leave you feeling cosy & happy inside. 🥰