New Delhi, 18 May 2023 - Now&Me, a paramount force in the mental health industry, is thrilled to announce its recognition on the prestigious Forbes 30 Under 30 list. The annual Forbes 30 Under 30 acknowledges outstanding individuals, young talents, and creative entrepreneurs who have made significant contributions to their respective industries and fields, and Now&Me's inclusion is a testament to its relentless commitment to revolutionizing mental health care.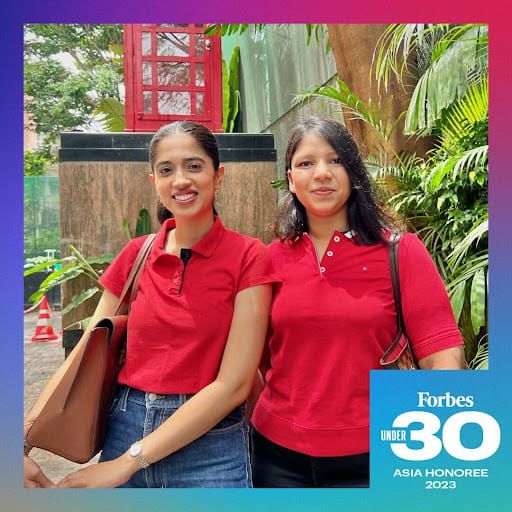 Handpicked from thousands of nominations, Now&Me's co-founders, Drishti Gupta and Bani Singh, have been bestowed with an honour in the Consumer Technology category for their keen enthusiasm and exceptional work in creating a safe and inclusive online mental health space for individuals worldwide.
"This accomplishment serves as a testament to our relentless pursuit of excellence and focuses on creating innovative solutions that resonate with our consumers. We firmly believe that this recognition will open doors to new opportunities, partnerships, and collaborations that will further accelerate our growth and impact," said Drishti Gupta, co-founder of Now&Me.
Now&Me's selection as a Forbes 30 Under 30 honoree demonstrates the platform's unrelenting dedication and zeal in breaking down the stigma surrounding mental health and creating a supportive community. The impact has been profound, with users experiencing an incredible sense of emotional connection and finding comfort in the platform's nurturing environment.
"We are committed to leveraging this milestone to drive even greater achievements. We promise to continue operating with the same integrity, transparency, and dedication that has earned us this honor. Our team remains steadfast in our mission to revolutionize the industry and create lasting value for all stakeholders, including our esteemed investors," said Bani Singh, co-founder of Now&Me.
Now&Me has big plans for the future and will continue its mission to create a world where individuals can freely express their thoughts and feelings, receive support from others, and foster a culture of empathy and understanding. With this recognition from Forbes, Now&Me is motivated to expand its reach and make an even greater impact in the mental health industry worldwide.
For media inquiries, please contact community@nowandme.com
About Now&Me:
Now&Me is a leading mental health platform that aims to revolutionize mental health care by providing a safe and inclusive space for individuals to seek support, share experiences, and connect with like-minded people. With millions of users, Now&Me is transforming the way people access mental health resources, breaking down stigma, and fostering a supportive community. For more information, visit https://nowandme.com/ or follow Now&Me at https://www.instagram.com/nowandme/.