There are millions of sweet things that can be said between partners in a long distance relationship. Many times, it can be challenging to keep the conversation going due to the lack of each other's physical presence.
Then there is also the struggle of coming up with ways to communicate sweet messages to your partner because they aren't really there standing in front of you. Long distance relationships have no physical touches, which means no intimate indulgences, no hugs, or warm embraces. And a lot of the time, text messages can feel "not-so-romantic."
Sometimes long distance couples feel like they are out of words; hence we have an excellent solution for you to spice things up. With the help of the cheesiest, most romantic, and honest long distance relationship quotes, you can spark up the butterflies in your stomach again. But of course, you know your partner better than anyone else, and only you can send them peace and comfort through long and lonely days.
Ways You Can Make Your Long Distance Partner Feel Special
There are several ways to make your long distance partner feel special. But most of the time, we tend to limit ourselves to a particular way in which we communicate with them. This can reduce the spark. So, it is always better to spice things up by switching communication modes and message tones.
One of these ways is with the use of long distance relationship quotes. The best part about these is that you can freely communicate your feelings of love, affection, and admiration.
Here are some ways to make your long distance partner feel special:
Send random texts.
Call at the end of the day.
Write a love letter.
Share goofy pictures.
Never stop sending "I love yous"
Send relatable and heartfelt long distance relationship quotes
Long Distance Love Demands Effort
When you love someone, you need to show it to them. Especially when you are long distance relationship, you don't only write messages, but you have to make them believe in them.
There's a saying, "what stays in the heart is closer even when a hundred miles apart." This is correct in the case of true lovers. Even if your loved one is far away from you, you can keep the sparkle alive by using deep long distance relationship quotes.
By posting these lovely long distance relationships quotes, your partner will fall in love with you all over again. And the best part is, you will be surprised with the return of this limitless love.
So to help your love grow even deeper, we have some of the best and most heart-touching trust long distance relationship quotes, so you can express your love without any limits.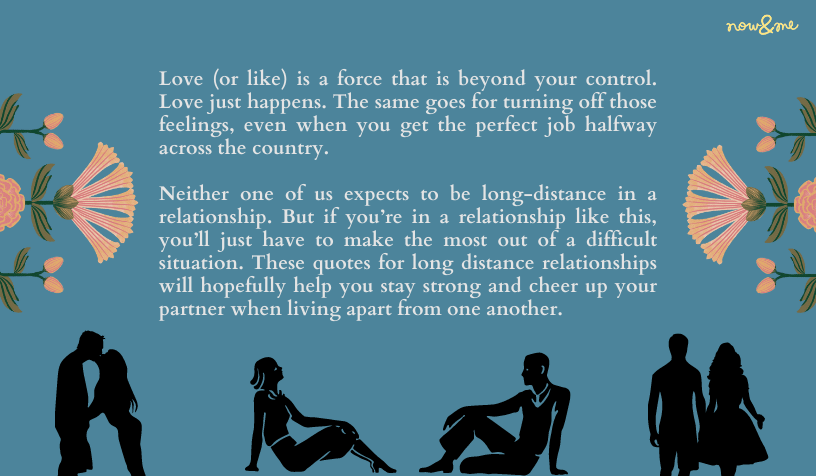 30 Best lLong Distance Relationship Quotes to Express Your True Love
These 30 romantic quotes can be sent over texts, video chats, or even via email until you meet each other again.
Don't measure the distance; measure my love.
Every day we are apart, my love grows stronger for you.
If I had a single flower for every time I think about you, I could walk forever in my garden. - C.A Grandi
Every time I close my eyes, I see you in my dreams. I can't wait until one day when I can hold you in my arms every night while I dream.
Thank you for loving me unconditionally and selflessly
Your absence has not taught me how to be alone; it has merely shown me that when together we cast a single shadow on the wall. - Doug Fetherling
In true love, the smallest distance can become too great, and the greatest distance can be shortened. All, too easily. - Hans Nouwens
This distance only makes my heart grow fonder, until the next time I see you.
9 . Love is what you've been through with somebody. - James Thurber
You're too far for my hands to hold you, but too near for my heart to love you. - Heraline
Every day we are not in each other's arms, it makes me miss you more and more.
If you think missing me is hard, you should try missing you.
Our lives were now worlds apart, separated by time, circumstance, and the unbridgeable chasm of money. - Travis Luedke
No matter where we both are in the world, you are always in my heart and soul. I love you more than anything else this world has to offer.
Missing someone can hurt. But when you know they are yours forever, negativity helps avert it. - Trishna Damodar
Distance means so little when someone means so much. - Tom McNeal
Loving someone you don't see every day is not a bad thing. It's just proof that love is not in sight but the heart.
We only part to meet again. - John Gay
If you listen to the wind very carefully, you'll be able to hear me whisper my love for you. - Andrew Davidson
Love will travel as far as you let it. It has no limits. – Dee King
The pain of parting is nothing to the joy of meeting again. – Charles Dickens
I will stop missing you when I am with you.
Ever has it been that love knows not its depth until the hour of separation. - Khalil Gibran
If you can't get someone out of your head, maybe they are supposed to be there.
Absence sharpens love. Presence strengthens it. - Thomas Fuller
Love is missing someone whenever you're apart, but somehow feeling warm inside because you're close in heart. - Kay Knudsen
I dropped a tear in the ocean. The day you find it is the day I will stop missing you.
How lucky I am to have something that makes saying goodbye so hard. - A.A. Milne
Your absence has not taught me how to be alone, it merely has shown that when together we cast a single shadow on the wall. – Doug Fetherling
My words speak for how much I have loved you. - Ilma Haider
So, how many of these did you love and are going to send to your loved ones?
FAQs
1. How To Maintain Meaningful Conversations In A Long Distance Relationship?
There are several things you can say. You can talk about emotional health, hardships, and future goals, set boundaries, ask them what makes them happy and discuss relationship expectations. If you are out of topics to talk about, you can share relatable long distance relationship quotes which will make them think about your relationship.
2. Can A Long Distance Relationship Be True Love?
In real life, true love and true relationships are not dependent on distance. So, the same goes for everyone. If you can communicate, you'll be able to resolve most issues. For a relationship to be successful, the couple needs to move toward the same goal, have respect and have the same values. And lastly, add in a bit of chemistry and romance.
3. How Can I Express My Long Distance Love?
Long distance relationships can become hard sometimes. But to keep them going and grow the love, couples need to reassure their affection for each other, respect boundaries, and give time to each other.