"It's all in your head."
"You don't need therapy, just stop overthinking and you will be fine."
"Take a nap and you will get over it."
How many times did you come across these phrases when considering seeking help from a therapist?
The idea of asking for help for our mental health in India is constantly frowned upon or considered taboo at any given time. One of the main reasons for the stigma attached to psychotherapy and counselling is that, even in our generation, we do not value mental and emotional health as much as physical well-being.
But trust me when I say, therapy helps. It definitely makes a difference. While therapy is incredibly useful for anyone with mental health conditions, its benefits extend far beyond anxiety and depression management and trauma processing. Therapy can assist you in identifying new coping skills, reducing stress-related physical symptoms, gaining a new perspective, working through interpersonal challenges, and a lot more.
Now, has the idea of taking therapy and opening up to a stranger brought an overwhelming sense of uncertainty, even if it wasn't your first time? It's important to know that you're not alone! We recognised that many people have concerns regarding therapy and counselling, so our team decided to help you in resolving them once and for all.
On Now&Me, we held an Ask Me Anything Session with Psychologist Shaifila Ladhani to help you discuss your fears and worries about therapy and mental health.
What Now&Me Users Had to Ask about Therapy…
Is Therapy Expensive?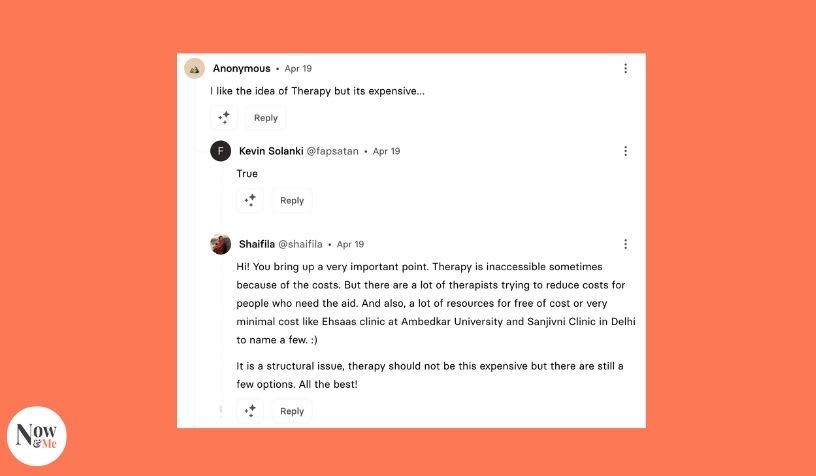 What If I Don't Really Connect with The Therapist?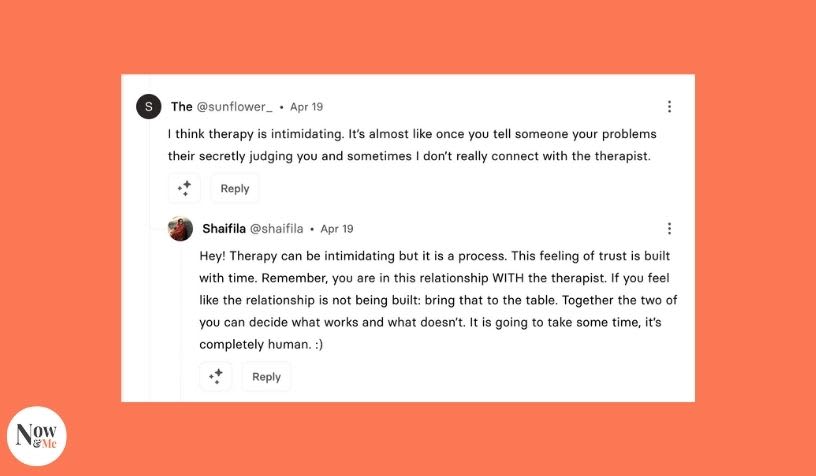 What Kind of Professional Help Shall I Seek For, If Needed?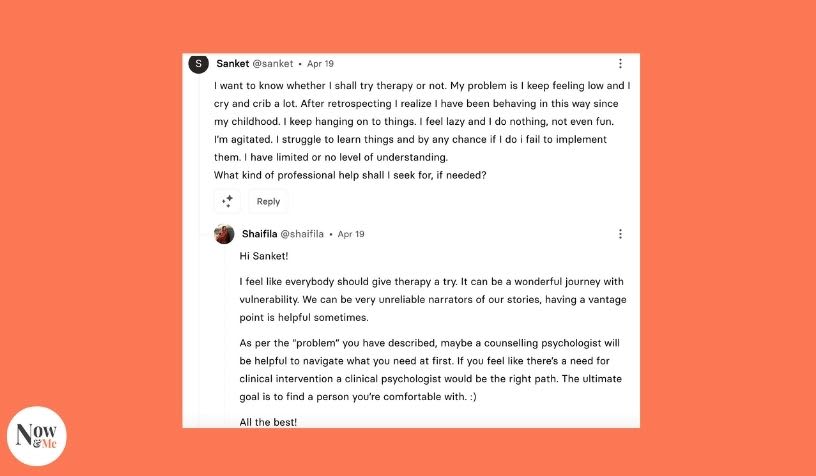 How Can I Overcome Shyness As A Teenager?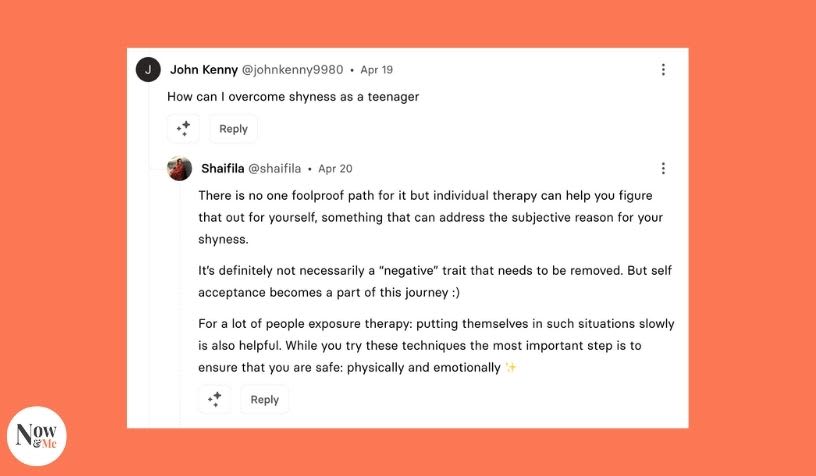 What Is Usual Therapy Like? Are There Different Kinds of Therapies?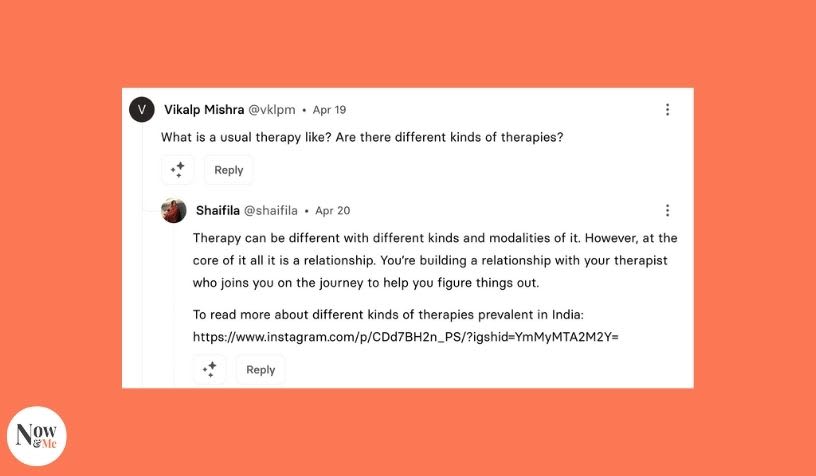 How to Approach Seeking Help Since It's Really Emotionally and Physically Exhausting for Someone Like Me?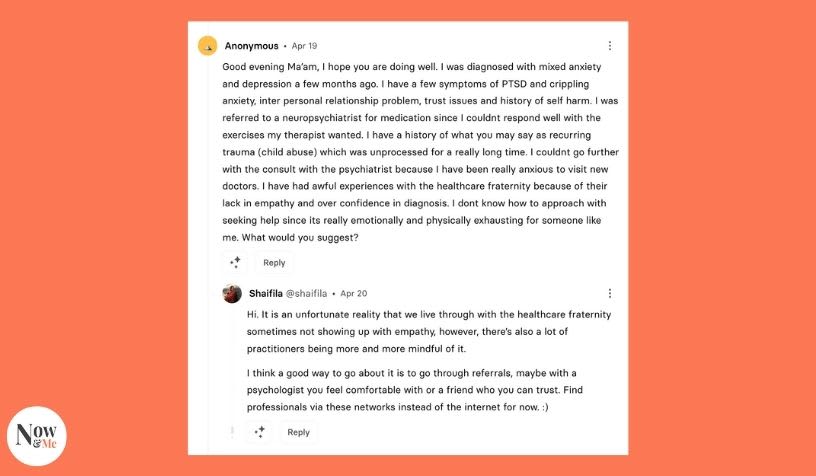 I Am Currently Lost. What To Do?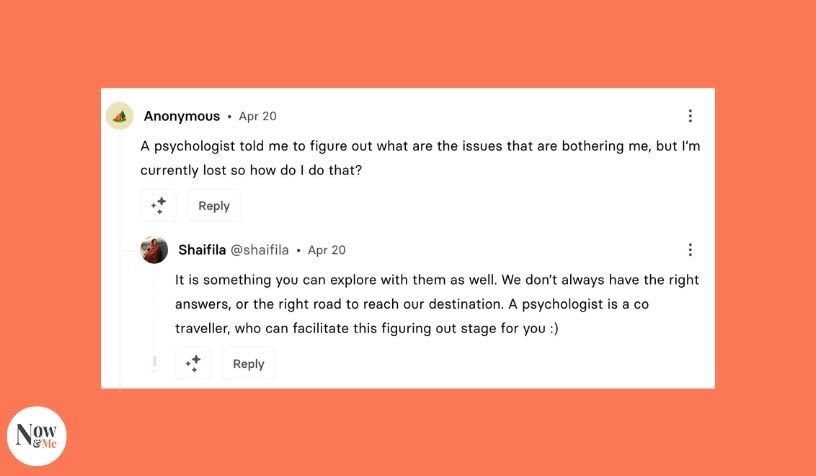 ---
Therapy&Me, Because You Deserve to Feel Heard
Many people, like this Now&Me user, want to pursue therapy but don't know where to start or how to discover the right fit. With Therapy&Me, booking a therapy session is no longer a challenging task.
Come across a number of clinical and counselling psychologists with diverse views and backgrounds to help you feel understood and heard. A therapist who can completely transform your mental health is only a click away.
We go above and beyond for you to ensure that you receive the care and support that you need. So trust the process and start your journey of healing with us.
Now&Me is on a mission to find the most effective way for everyone to achieve emotional well-being. Are you ready to elevate your mental health to new heights? Then find your ideal therapist and take the first baby step today.