The month of April 2022 has been marked with the opening of one of the most unfortunate yet controversial stories of all time, covering the relationship involving alleged mutual abuse of Hollywood stars Johnny Depp and Amber Heard.
The case dates back to 2019, when Depp filed the defamation suit against Heard in response to an op-ed she wrote for the Washington Post in December 2018, that detailed her experience with domestic violence, wherein Depp's name isn't mentioned, but the article was widely interpreted as being about him.
After a lot of back and forth in and around the case, a round of hearings started on the 11th of April, 2022, wherein Amber Heard was supposed to take the stand as the first witness for her defence in the $50 million defamation trial instigated by Johnny Depp, which ultimately resulted in a thread of controversies across media platforms.
From disturbing audios containing extremely harsh exchanges between the former couple, to explicit details being revealed by each one of them about they were allegedly abused, the relationship as a whole is out in the open, for people to judge, comment and assume about.
The infamous trial has a lot more to absorb from, apart from being another celebrity blame game in the courtroom.
Takeaways from The Infamous Johnny Depp and Amber Heard Trial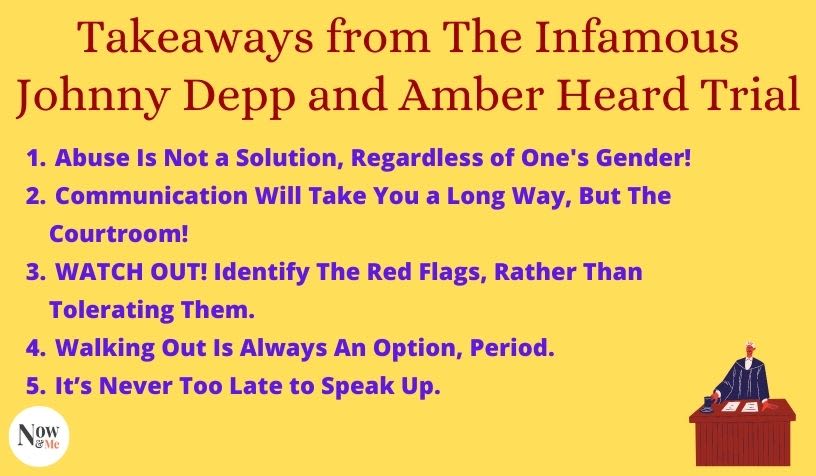 Every relationship has its own downfalls, wherein cooperation and adjustment do play a key role in keeping the boat sailing. But when relationships start to test tolerance and patience levels, it might be a reminder for you to stop cooperating and adjusting to the bare minimum. Unfortunately or fortunately, since this relationship is out and loud in public, it can surely be a live example for a lot of people to either break silence on what they've been holding onto for so long, or either stop doing what they're doing immediately!
Here are 5 takeaways from Johnny Depp and Amber Heard's trial:
1. Abuse Is Not a Solution, Regardless of One's Gender
In a time where we speak of equality and feminism, abuse of any sort should neither be tolerated nor should it be encouraged. Some may be empowered by patriarchy, and others by feminism, to be able to justify their acts of power and dominance over their partners, wherein, in reality, none of them really make a lot of sense on the grounds of humanity.
2. Communication Will Take You a Long Way, But The Courtroom
Communication stands as one of the major pillars in any and every relationship. The ability to be able to communicate what's in your head, as well as understand what one is saying is extremely important in order to maintain balance in a relationship, and make one and other feel heard. As soon as there is a development of a feeling which suggests invalidation or disappointment, one should realize that the pillar of communication is weakening. Communicating emotions and feelings of all sorts helps in leaving no room for misunderstandings and disappointment. Therefore, tough conversations may be hard to digest at first, but incomplete conversations might result in excessive resentment, ultimately leading to instability of a relationship.
3. Identify The Red Flags, Rather Than Tolerating Them
No relationship is perfect, and no relationship is tailor-made! If you come to observe/identify things about your partner that are troublesome to an extent where you are obsessively concerned/worried about them, then it may be a sign for you to tell them to fix it! Waiting for things to change all of a sudden, or even tolerating 'bad habits' of your partner for the sake of love, will only bring about unnecessary conflict between you two. You may tolerate your partner snoring at night, but it is alarming when they threaten to keep you awake the entire night - watch out for danger, always!
4. Walking Out Is Always An Option, Period
Sometimes you don't have to wait for things to reach the saturation point; sometimes even the tiniest thing can be big enough for you to make a decision to walk off. As much as staying back in any relationship seems like the very option to be able to save the relationship, walking out of a relationship simply because one doesn't feel comfortable is also an option, regardless of how the society may perceive your decision to be. As much as the context and situation of personal matters while making this decision, the very idea of normalizing walking out of a relationship will also encourage a lot of people to take the very step and set themselves on a path of utmost freedom and happiness.
5. It's Never Too Late to Speak Up
Many times we heard people accusing the victim for standing up for themselves when the show was over. Wounds surely do heal with time, but they're still very much there - the scars stay. Therefore, to say that time has passed for you to speak up for yourself is to live in denial of something that might have happened. Apart from demoralizing the victim, society should really acknowledge the courage it takes to recollect all of those traumatic memories and repeat them in your head before you let the world know about what you've been through.
Abuse and Domestic Violence in Relationships
Coming back to where we started, the courtroom trial draws our major focus to abuse, namely domestic violence in relationships. A well-known facade of relationships, yet talked about so less, is domestic violence, which can be defined as a pattern of behaviour in any relationship that is used to gain or maintain power and control over an intimate partner. Abuse is physical, sexual, emotional, economic or psychological actions or threats of actions that influence another person. Also, please note that domestic abuse can happen to anyone of any race, age, sexual orientation, religion, or gender, in a range of relationships.
Therefore, the entire narrative of he said she said in the Johnny Depp-Amber Heard case points toward our narrow-mindedness, where we confine ourselves to think in boxes, associating specific acts to specific genders. As a society, if we focus more on strengthening healthy relationships than viewing discrete identities in isolation, then it may help us to hear one another with utmost patience and least bias.
I truly believe that when the truth prevails, the victim gets their justice, and the abuser is proven guilty.
Until then, download the Now&Me app, to share your views about issues that contribute to our mental well-being.
How Can Now&Me help?
Now&Me provides a safe and supportive platform to connect with experienced mental health and self care professionals who can offer you guidance and support.
Our peer community is welcoming, non-judgmental, and inclusive, creating a warm and supportive environment to share your thoughts and feelings.
You can interact with like-minded peers or seek guidance from experienced experts like therapists and life coaches, instantly. What are you waiting for? Download for FREE!
FAQs
Born on 9th June 1963, in Owensboro, Kentucky, U.S., Johnny Depp is an American actor and musician who is very well known for his unconventional film choices. He has contributed to the cinema by giving perhaps his greatest success as Capt. Jack Sparrow in the Pirates of the Caribbean series.
Born on 22nd April 1986, Amber Laura Heard is an American actress and activist. She is known for her roles in the 2008 films Never Back Down and Pineapple Express. Heard also gained recognition for playing Mera in the DC Extended Universe and appearing in Aquaman and its upcoming 2023 sequel.
Johnny Depp is suing Amber Heard for defamation because of an op-ed she published in the Washington Post in 2018. In the op-ed, headlined "I spoke up against sexual violence — and faced our culture's wrath. That has to change," Heard never mentions Depp, but she refers to herself as "a public figure representing domestic abuse. Depp and his lawyers have argued, and a judge has agreed, that Heard is clearly implying that Depp abused her over the course of their year-long marriage.