Since March 2020, it wouldn't be wrong to say that the world has been sailing in the boat of uncertainty and fear, fear of getting infected, fear of losing their loved ones to the virus, and fear of living a life of uncertainty. With so much fear, what had started as a medical emergency all over the world has now turned into an emergency of all kinds, being attended by people in their own ways.
The pandemic has been extremely brutal for all of us in some or the other way, leaving no sphere of our lives untouched. With the amount of potential it had to be able to turn the world upside down, it has truly proven to be a remarkable event that'd go down in history. In the realm of COVID-19, while we equipped ourselves with bottles of sanitisers and masks, we started to live a life we couldn't have imagined.
**2 Years of Collective Trauma, Did We Ever Address It?
When dealing with something like COVID-19, much of the focus is on the prevention and treatment of the disease. The immediate effects are of the utmost concern, but it's also important to consider the longer-term collective trauma of the pandemic.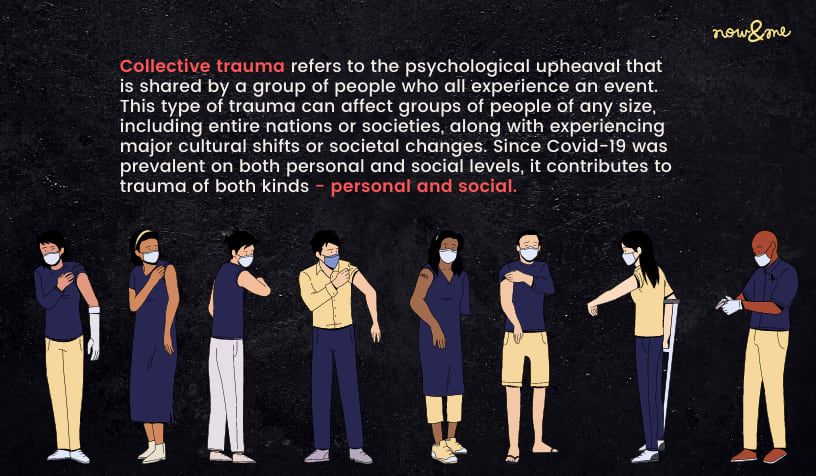 Starting with the entire narrative of being able to socially distance ourselves from fellow humans resulted in undesired isolation for some, which contributed to a number of negative psychological effects, including confusion, anger, and even PTSD. Adding onto this, the global economy had hit rock bottom during the rule of CoronaVirus, where industries were affected, companies had shut down, and work-life balance seemed like a lot of struggle. But the fact that the virus was so severe was soon realized when not only did the cases start to increase, but also when countries like India had to hide their data and not let the world know about the reported number of deaths that had taken place. It was unfortunate to see the world mourn for their loved ones all at once, so much so that children in the age of exploring life were learning to accept and express grief.
It Became More National Than Global; Collective Trauma from A Pandemic in India
Covid did absolutely no discrimination, and had infected India like any other nation, but our nation's preparedness for the same is what resulted in becoming a collective trauma. Starting from the forced displacement of the migrant labourers, after which the deep-rooted divide between the rich and the poor was very well highlighted in India. While 2020 turned out to be the year to learn about the virus, 2021 was definitely a year to be prepared with everything that we had learned so far. But, 2021 marked the beginning of the 2nd wave, which couldn't be any more brutal. With every other person getting infected, India not only witnessed the atrocities of the virus, but also a failed health care system, where lack of oxygen and other medical facilities were a major reason why people were suffering.
While we saw each family mourning for someone or the other, we also saw a nation coming together from all parts of the world to help one another find as many leads as possible and save the nation from going into the hands of a virus.
How to Recover from Collective COVID-19 Trauma As A Society?
In addition to being aware of the potential individual impacts of the pandemic, community and societal responses may help mitigate the long-term negative impacts. Here are a few ways to minimize the effects of collective trauma: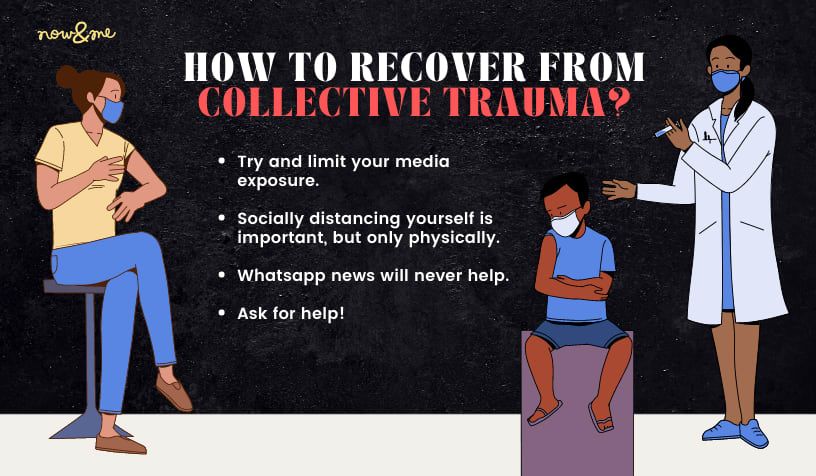 1. Try and limit your media exposure As much as it is important to stay aware, reading about the same thing again and again may only increase one's negative emotions. For instance, people who constantly kept track of the number of cases being reported due to covid on a daily basis seemed much more worried than those who didn't.
2. Socially distancing yourself is important, but only physically At a time when everybody is going through a tough time, it is important to stay in touch to be able to have people around you, and also be available for others in time of need.
3. Whatsapp news will never help! It is important to absorb reliable and trustworthy information, rather than merely taking in rumours, since transparent and honest information will help them make a proper decision, rather than staying unclear about things happening around them.
4. Ask for help! In case you are not able to visit a mental health professional in person, there are online options that can help. Many therapists are offering therapy services online due to the limitations of the pandemic, along with a growing number of online therpy sites for additional assistance.
---
While the times have been tough, we understand that there's a long way to go in order to completely come out of whatever has happened in the past two years.
On Now&Me, you can pour your hearts out, and we promise we are not distancing ourselves from you <3
---
FAQs
1. What is Collective Trauma?
The term "trauma" refers to a traumatic incident's impact on an individual or a few people. Collective trauma is the impact of a traumatic experience that involves and affects whole groups of people, societies, or communities. Collective trauma not only brings distress and negative consequences to individuals but can also change the entire way in which a community functions.
2. What Are The Signs of Pandemic Trauma?
Symptoms of pandemic trauma are known to vary among people of different age groups. Sleep disturbances, such as recurrent nightmares, whether they are virus-related or not, can be another indicator, mainly when they occur alongside other symptoms. With older children, parents should look out for their kids describing feelings of numbness or hopelessness or expressing less optimism about their future goals and plans as a result of COVID-19. Adults also need to pay attention to their own symptoms as well, as some concerning signs of trauma among adults might include an increase in disturbing thoughts, feelings, or nightmares related to the pandemic, such as dreams about forgetting to wear a mask.