In a world where we have unrestricted access to people, celebrities like their name suggests are celebrated worldwide. They aren't just revered for their work but also for everything they do, from their clothes to the food they eat. In a world where celebrity culture is rampant and celebrities influence millions of people everywhere, it is important to be mindful about whom we pay our attention and who we align our loyalties with.
Celebrities themselves are also aware of this, as they have firsthand experience with what it is like to live a life under the spotlight. Unfortunately, many people misuse their platforms, only trying to create hype and controversies, but there is an equal, if not a higher, number of celebrities who use their platforms to inspire goodness in their fanbases.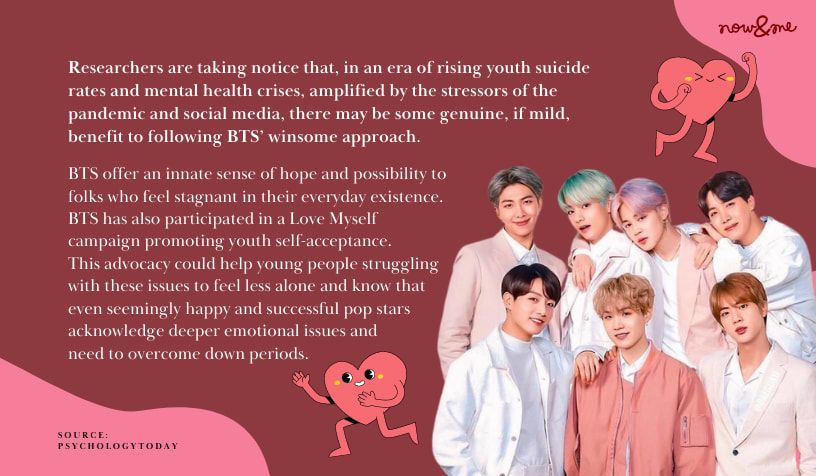 BTS, also known as Bangtan Sonyeondan (방탄소년단) or The Bulletproof Boys, is a part of this niche that uses its influence to spread goodness in the world. BTS has never shied away from difficult conversations, from private donations done as individuals to using their brand to spread the message of equality and human rights.
The United Nations has been the most publicized platform the group has been on, but their lives weren't always so grand. Even with humble beginnings, a rags-to-riches story, and worldwide fame, their message has remained consistent. Taking a look at their career, here are 10 things BTS has taught us about mental health.
How BTS Advocates for Conversations Around Mental Health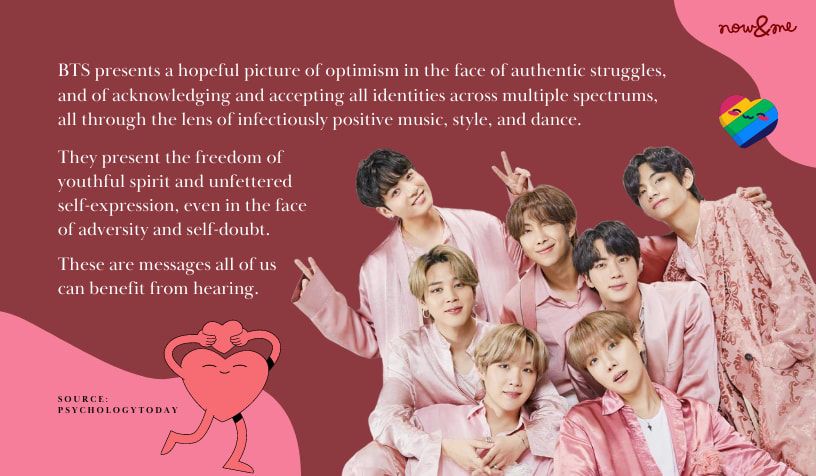 BTS have stood their ground regarding conversations around mental health for many years now. Be it through the songs BTS released about mental health, to their speeches and replies to fans; a common theme of Loving Yourself and acknowledging the presence of unprecedented hardships has always been there. Some of these include:
1. There is no 'one-size-fits-all' for success
Different people have different definitions of what success means to them. Even the members define success differently. For Jungkook, success lies in the effort taken to get to perfection. Although his name comes with the tag 'Golden' he works very hard to achieve perfection. On the other hand, for the eldest, Jin, success is only possible if it goes hand in hand with time for fun. For him, having time to cool down, relax and have fun is what keeps him from burning out. Neither of these two opinions is better than the other. It is important to remember different people have different needs, and when our needs are met, success will follow.
2. Mental Health is important
BTS has never shied away from conversations surrounding mental health. They place heavy emphasis on the effects of society on mental health in their music as a group as well as individuals. From group songs like Tomorrow and Whalien 52 to more personal projects like The Last or Reflection, BTS openly and honestly share their struggles with mental health and how it affects them. They also actively advocate for mental health awareness by using their experiences to bring awareness.
3. Namjooning is good for your health
All fans know what 'Namjoon-ing' stands for, but for those who are unaware, Namjooning refers to spending time in nature, going out by yourself, and getting away from the hustle and bustle of life. Spending time in nature, going for runs, bike rides, etc., have been stressbusters that have been prescribed for decades. Getting out there and spending time in nature, at an art gallery, at a cafe or even just going on a walk will do wonders for your health. Pick an activity that you like and give it a minimum of 30 minutes.
4. Always remember your roots
Having the perfect rags-to-riches story that puts many fiction novels to shame, BTS has beaten all odds and still come up to the top as winners. They have reached new heights of success year after year, but with all the fame and success, the one thing that has remained constant with them is their humility. For the members, humility is what keeps them grounded in a world filled with glitz and glam. They are thankful for their roots and appreciative of the experiences that they have accumulated over the years.
5. It's okay to not have a dream
In a world that is so focused on hustle culture and taking a break is criticized, it is important to remember that not having dreams and goals is also valuable. In their song 'Paradise', they emphasize happiness over dreams. Different people have different goals, not everyone dreams of being a CEO, doctor, or engineer. Not having big ambitions is also okay. Being satisfied in your life is more important than conforming to society's ideals of what does and doesn't matter.
6. Yesterday's You and Tomorrow's You
When BTS addressed the United Nations in September 2018, they addressed many issues faced by the youth. Speaking about his personal life, RM gave anecdotal references to his dual life as a pop star and as a normal guy. In his speech, he concluded that the person he was yesterday, with all his mistakes, and the person he will be tomorrow, with a little bit more wisdom, are all him. We all have different sides to ourselves, we make mistakes, and we can only hope to learn from them. The best we can do is accept all parts of ourselves.
7. Rest is important for recovery
In a world that demonizes taking breaks, it is possible to feel guilty about wanting to rest. Recognising and advocating for yourself when you need to pause for a moment is one of the greatest skills you will ever have. Oldest member Jin believes that resting is not putting any effort into self-improvement. Resting should be purely for selfish purposes. When we pick up "hobbies" that are deemed more acceptable than others, we are doing a disservice to ourselves. Giving ourselves some time to do absolutely nothing is what will help in getting back to productivity.
8. We accept the love we think we deserve
From their hit song "Magic Shop" comes a world of healing and acceptance. Magic Shop talks about creating a safe space where there is no fear and only acceptance. Sometimes when life's got you down, what you need the most is someone who will listen. Human beings are capable of love but often, we need the reminder to show that same grace towards ourselves. Giving yourself the best of you is just as important as giving your best to others.
9. Not everyone will love or even like you
Given the popularity that a group like BTS has, it is evident that they also have a fair share of "haters". However, BTS take the hate and criticism in grace and reflect on how they can do better. Although not every person who criticizes you will be respectful and give constructive criticism, it is important to recognize that you can't please everyone. There will always be someone who disagrees, but you have the power to take it in grace and be a better person.
10. It all starts with loving yourself
Ask any BTS fan what lesson they have learnt from the group and the answer you will get most often is "How to love myself". As a group, BTS use their influence for good and has continuously done what they can to spread positivity. As a result, the message of "Love Myself" has become an integral part of the group's identity. Reminding yourself to be kind to yourself in the face of hard times is difficult, but it can also be life-changing.
What has BTS taught you? Share what you have learnt with our community and spread the joy.
Read More: 10 Songs with Feel-Good Lyrics for When Life Takes a Turn